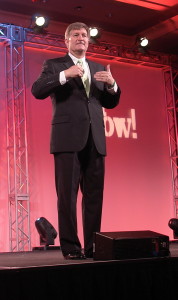 Are you planning an On-Purpose Peace event and you want Kevin W. McCarthy to make that special difference with a live presentation?
Kevin has a unique understanding and gift of communication in both the marketplace and the church. For over two decades, Kevin has carried the On-Purpose® message to audiences from Hungary to Hawaii. He is the pioneer and world's leading authority in this field.
Contact On-Purpose Partners at 407.657.6000 to book Kevin for your event.
Kevin for Free*: If your USA-based church, business, or organizations invests in 200 or more sets of On-Purpose Peace on one purchase order, then you qualify to have Kevin W. McCarthy speak at your event for just the added investment of his travel, meals, and lodging. Events within 100 miles of the Orlando, FL area qualify with the purchase of just 100 sets.
* This special offer is for bookings done in 2016 for On-Purpose Peace only and based on Kevin's availability. Qualifying quantities are subject to change without notice. Please note that as a professional speaker, this offer is a substantial discount from his normal speaking arrangements.