A Heartfelt Message to Women From God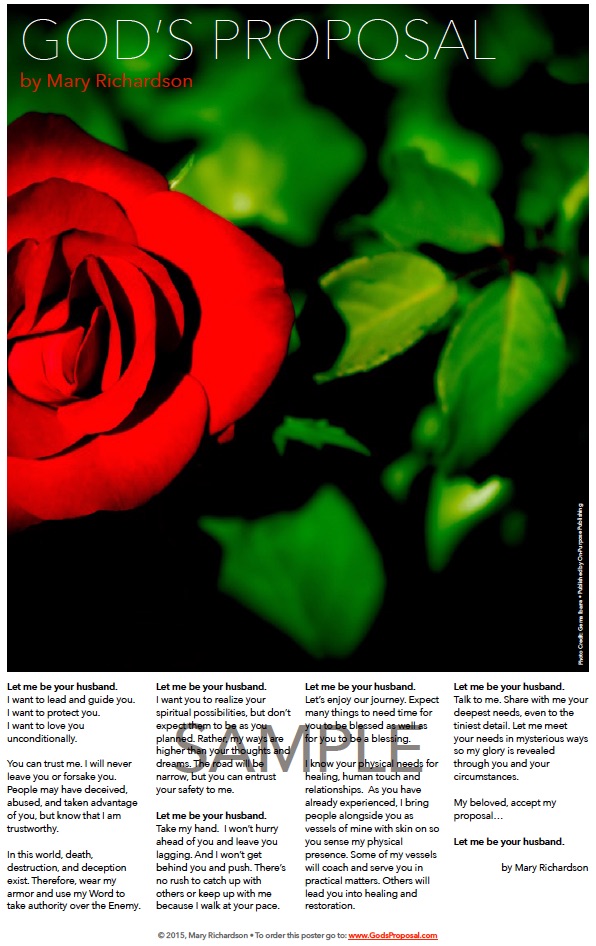 By Mary Richardson
Preview PDF of God's Proposal – click to access a pdf where you can view the full text (provided below, too) and poster with a watermark
Women: God's Proposal is a modern psalm written from God's voice to the heart and soul of a woman. This brief but beautiful message with the refrain, "Let me be your husband," offers a meaningful message to single women, divorced or divorcing women, and, interestingly, even happily married women.
Men: Here's a message that every man would be wise to speak into his marriage and to live into as a husband. Ask your bride, "Let me be your husband." Make God's Proposal your proposal.
Embrace the Joy!
Purchase Now from On-Purpose.com
Testimonial
"I want to share the personal impact God's Proposal had on me. I am currently studying the Book of James and was  in Chapter 5 today. In cross referencing adulteress I found more depth to God being my first Husband. I am in love with a wonderful man and we are in the process of praying through what God has for us. Your writing and my study impacted my heart greatly yesterday and today. I have an overwhelming sense of freedom and peace that I haven't felt in weeks. I feel so loved and am so in love with God, I think I really understood His proposal to me through your writing. I am so Blessed."

Betsy, MN
The Back Story by Kevin W. McCarthy
Mary Richardson, a never married senior woman, awoke on the morning of July 2, 2015 feeling compelled to write the words God had placed on her heart. Mary is a gifted prayer intercessor who typically receives verses of scriptures and word pictures, but rarely text. Ever obedient, she went immediately to her computer and started typing God's words for her.  After completing her task, she read what was written and began to cry tears of joy over God's words spoken into her life.
The next thing Mary did was send me her original version with a simple note saying, "I  needed to share this with you since you have been a special part in my journey of healing."
Wow! It read like a Psalm. Knowing of Mary's devout prayer life and attention to detail, I immediately recognized the healing aspects of this message to her life. I also saw that with some edits and a bit or reworking it was a message for women of all ages and marital statuses.  I shared this idea with Mary and she embraced it joyfully.
Next, I searched for images that would bring the message to life tastefully and elegantly. Knowing that Mary loves red roses I searched online at Deposit Photo. I wanted the rose to be attached to the bush rather than cut and presented.  That seemed too contrived. God works through nature to romance us with his handiwork.
Fortunately, I found a beautiful image of a rose by Madrid-based photographer, Gema Ibarra. I bought the rights to use the image for God's Proposal
Opening up my Mac and Apple Pages I set the red rose image and text as I did some editing along the way. Repeating the words, "Let me be your husband" provided a literary hook or theme that is so like God to gently invite and seek our permission to have him love us. The idea of calling this, "God's Proposal" struck me as somehow right and Mary agreed.
To purchase an 11″ x 17″ full color poster of God's Proposal for $20 plus postage, click here to go to the God's Proposal A significant portion of your purchase supports Mary Richardson's intercessory prayer ministry to visionary leaders including me. So in addition to getting a glorious image and message, you're also doing a good work.
Purchase Now from On-Purpose.com
God's Proposal Full Text
Let me be your husband.
I want to lead and guide you.
I want to protect you.
I want to love you unconditionally.
You can trust me. I will never leave you or forsake you.
People may have deceived, abused, and taken advantage of you, but know that I am trustworthy.
In this world, death, destruction, and deception exist. Therefore, wear my armor and use my Word to take authority over the Enemy.
Let me be your husband.
I want you to realize your spiritual possibilities, but don't expect them to be as you planned. Rather, my ways are higher than your thoughts and dreams. The road will be narrow, but you can entrust your safety to me.
Let me be your husband.
Take my hand.  I won't hurry ahead of you and leave you lagging. And I won't get behind you and push. There's no rush to catch up with others or keep up with me because I walk at your pace.
Let me be your husband.
Let's enjoy our journey. Expect many things to need time for you to be blessed as well as for you to be a blessing.
I know your physical needs for healing, human touch and relationships.  As you have already experienced, I bring people alongside you as vessels of mine with skin on so you sense my physical presence. Some of my vessels will coach and serve you in practical matters. Others will lead you into healing and restoration.
Let me be your husband.
Talk to me. Share with me your deepest needs, even to the tiniest detail. Let me meet your needs in mysterious ways so my glory is revealed through you and your circumstances.
My beloved, accept my proposal…
Let me be your husband.
by Mary Richardson
© 2015, Mary Richardson, Published by On-Purpose Publishing
God's Proposal words are offered here as it was given – freely – provided you retain the original words and attribute them to the author and provide a link to: www.GodsProposal.com.  Permission is for personal use only. All commercial rights are reserved.