Every member of the Gathering is to have his or her own On-Purpose Peace guidebook to capture thoughts, complete work exercises, and follow instructions from session to session. We highly recommend each participant also has his or her own The On-Purpose Person, but the book can be shared.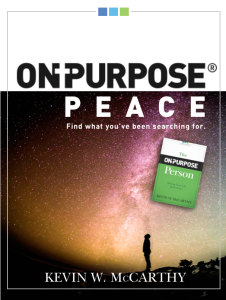 The On-Purpose Peace Bundle ($46.50) includes everything you need to participate in your small group or individual study experience.
The On-Purpose Person, Making Your Life Make Sense
ONPURPOSE Peace companion workbook
ON†PURPOSE.me online tool to find your 2-word purpose statement. This also includes the ONENESS in Christ 14-part message series.

---
Already own The On-Purpose Person? Or, are you doing your annual tune-up with the ONPURPOSE Peace content? Get ONPURPOSE Peace guidebook only plus ON†PURPOSE.me online tool : $41.50.
The On-Purpose Person is not included and must be purchased separately (see below).
---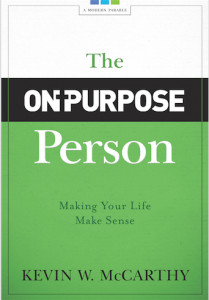 The On-Purpose Person: hardcover $20, softcover $15, Kindle: $9.97. Kindle Unlimited: $0.00
The On-Purpose Person is a modern parable of one man's journey of personal discovery of his purpose in life and taking action and responsibility for leading his life thoughtfully and honorably.
This book pioneered the now popular discussion about purpose. Originally published in 1992, but updated and re-released in 2009, this message is only gaining in relevance to contemporary life. Kevin W. McCarthy's thinking and writing that created the On-Purpose® Approach remains on the leading edge of society. While others have you searching for purpose, On-Purpose has you living into your 2-word purpose.