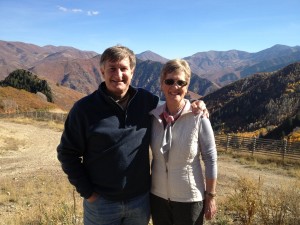 Want Kevin to speak at your church or group? Learn more here.
Please Don't Introduce Me As Jesus!
Upfront, let's get one thing straight. While I appreciate your interest in who I am, what I do, why I do what I do, and so forth, I am not the On-Purpose Person. Jesus is!  Please don't attribute any exceptional qualities, brilliance, or holiness upon me just because God used me for this On-Purpose® message.
If you think this is some veiled attempt at humility, it isn't. Remember that we authors write about our struggles and failings. Like the disciple Paul says in 1 Timothy 1:15, "I am the worst sinner of all." Doubt me? Ask my daughter, Anne; she'll tell you the ugly truth!
Broken But Better
Works like The On-Purpose Person and On-Purpose Peace can't be written from strength. They are expressions of brokenness, pain, redemption, healing, and restoration. Sure, my aim is to be a godly man, but I'm counting on the grace of God and the forgiveness of others. Even with my best efforts, I will disappoint, fail to meet expectations, and say stupid, even hurtful, things. Oh, in private I'm also prone to drop an expletive now and then. Not the big bad ones. So forgive me in advance for not being the ideal model of an on-purpose person. Your model died on the cross for my sins!
My guess is, however, that we're much alike.
We're well-intended, learning by failing and getting back up again, and more generous to ourselves than we are to others when it comes to our depravity. We're also hopeful and seeking to gain a bit more order and calm in our very packed and busy lives. We're seeking to honor and glorify God but we're not really sure what that means much less how to make it happen.
Instead we work hard, try to do right, and we're busy at work and at home. Making our lives make sense hasn't always been easy, but we catch glimpses of difference making now and then and we wish we could do it more often.
It is in a spirit of walking together that I offer On-Purpose Peace. Since The On-Purpose Person was first released in 1992 by my original publisher, NavPress, it is my family, friends, readers, subscribers, clients, and customers who have challenged me to grow, to think, and to become a more mature Christian. Thank you all … especially for your grace.
I work to live into to the standards of the On-Purpose message and approach. I hope you'll join me because this is the Gospel message in sheep's clothing but with the roar of a lion.
The point is we need to shed perfectionism and pride. Instead, let's make steady progress. Be a bit better today than you were yesterday in body, mind, and spirit. Be kinder, more loving, and serve more freely. God gives us this grace so receive His mercy and forgiveness, and then pass it on.
I really don't matter here. You do!
The contents of The On-Purpose Person are not biographical, but who isn't seeking greater peace? Here are lessons from the journal of one man's vocation, spiritual growth, and dedication to be a healthier, more whole, and loving person. I've learned that the world is far too complicated and confounding. I can stress over it or rest in God's peace as found in my 2-word purpose statement.
As you embrace becoming an on-purpose person in creation, please drop breadcrumbs for those who are coming behind you. You'll discover that talking about being On-Purpose is much easier than living it. We need each other. Learn to life chat and let On-Purpose Peace be your guide. Be it one-on-one with a spouse or friend or in a small group gathering or with a certified On-Purpose Personal Leadership Coach, here's the agenda to get real with God and your life.
I envision The On-Purpose Planet, where every person is on-purpose. Yes, it is my idealism. Yes, it would be really good for my business and value of my intellectual property and trademarks. Yes, many lives would be improved. Yes, it would be God honoring. Candidly, however, I know how much I'm influenced by the world about me so I need the On-Purpose Planet populated to protect me from me. I long for God to play a bigger role in my life. Too bad that I'm blocking the doorway to Him so often and not trusting enough to let the pathways be straight.
If you're like me, then we need each other.
Let's be real together. Let's prosper in the promise of the abundant life, and let's invite others to join us in our pursuit of being on-purpose. Let's gather to pray, laugh, learn, and love one another as God so loved the world.
Be On-Purpose!
Kevin