Does your church have an emphasis on spiritual maturity, disciple making, or evangelism? If so, On-Purpose Peace can be a remarkable partner in your missions.
On-Purpose is all about knowing who you are in Christ (identity) and how to glorify God by aligning your will with His will (discipleship). Enjoy the fun and adventure of discovering God's purpose and plan for your life and helping others capture the excitement (evangelism)!
Regardless of whether you're planning a small group or hoping to take the entire church body through On-Purpose Peace, please contact our office and we'll share best practices and ideas with you to ensure even greater success.
Making Plans for Your 2014–2015 Events?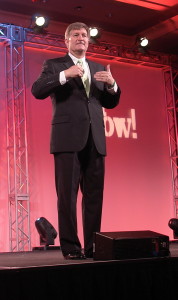 Launch
On-Purpose Peace
in a big way by bringing Kevin W. McCarthy to your church (business, organization) for a keynote presentation about being On-Purpose. If your U.S. church, business, or organization buys 400* or more sets of
On-Purpose Peace
at US$20/set (savings of $15/set), then you qualify to have Kevin W. McCarthy come to your event to speak (doesn't include his travel expenses, which are additional). Events in the greater Orlando, FL area qualify with only 250* sets purchased.
Kevin's availability for this special offer is limited
so book now before his calendar fills. Contact our office at 407.657.6000 to book your event.
* Must be a single purchase order and booked in 2014. This offer only applies to On-Purpose Peace as this offer is a discount from his typical professional speaking fees. It is subject to change without notice.
On-Purpose Peace features:
Commentaries and questions for each chapter of The On-Purpose Person
Complete sets of forms for Want Lists & Tournaments, Ideal On-Purpose Day, and more
"Borrow a 2-Word Purpose Statement" tournament sheet so everyone walks away with their purpose
7 videos by Kevin W. McCarthy — online with a free membership
Scripture references bring this "Modern Parable" to life 
Articles for each Gathering for optional in-depth discussion
Visit www.onpurposepeace.com today to learn more.